Welcome to Nagoya and I hope that you enjoy City while staying!!
I want to introduce you  my favorite Ramen in Nagoya.
If you can try, I recomend you try Mega Ramen like following picture
Large Ramen + ALL MashiMashi = 1.9kg 
Can you try this???
Do you want to eat this mega Ramen bowl?
This Ramen is like "Ramen Jiro" in Tokyo area.
There are not "Ramen Jiro" in Nagoya area.
But There are some Ramen shops similar to "Ramen Jiro" like above picture.
We call this kind of Rame, " 二郎系 Jiro-kei (like Jiro or inspired Jiro)"
OK, Let me instruct you how to order Mega Ramen like Jiro Ramen.
How to order!!
Step 1.  Buy a ticket with Vender Machine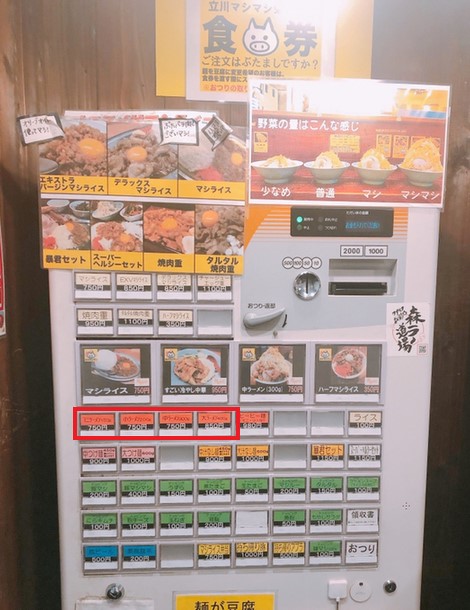 This is The Vender Machine.
Inside of Red Frame are Ramens.
From left:
ラーメンミニ(Ramen Mini = Minimum 150g)
ラーメン小(Ramen Syou = Small 200g)
ラーメン中(Ramenn Chuu = Medium 300g)
ラーメン大(Ramen Dai = Large 400g)
and You can also buy some toppings.
生たまご    Law Egg   50YEN
キムチ     Korean Pickles   100YEN
チャーシュー  Barbecued Pork  400YEN
and others…
Step 2. Order
You can choose amount of Vegetable for free.
Following Picture is The guide of Free Toppings.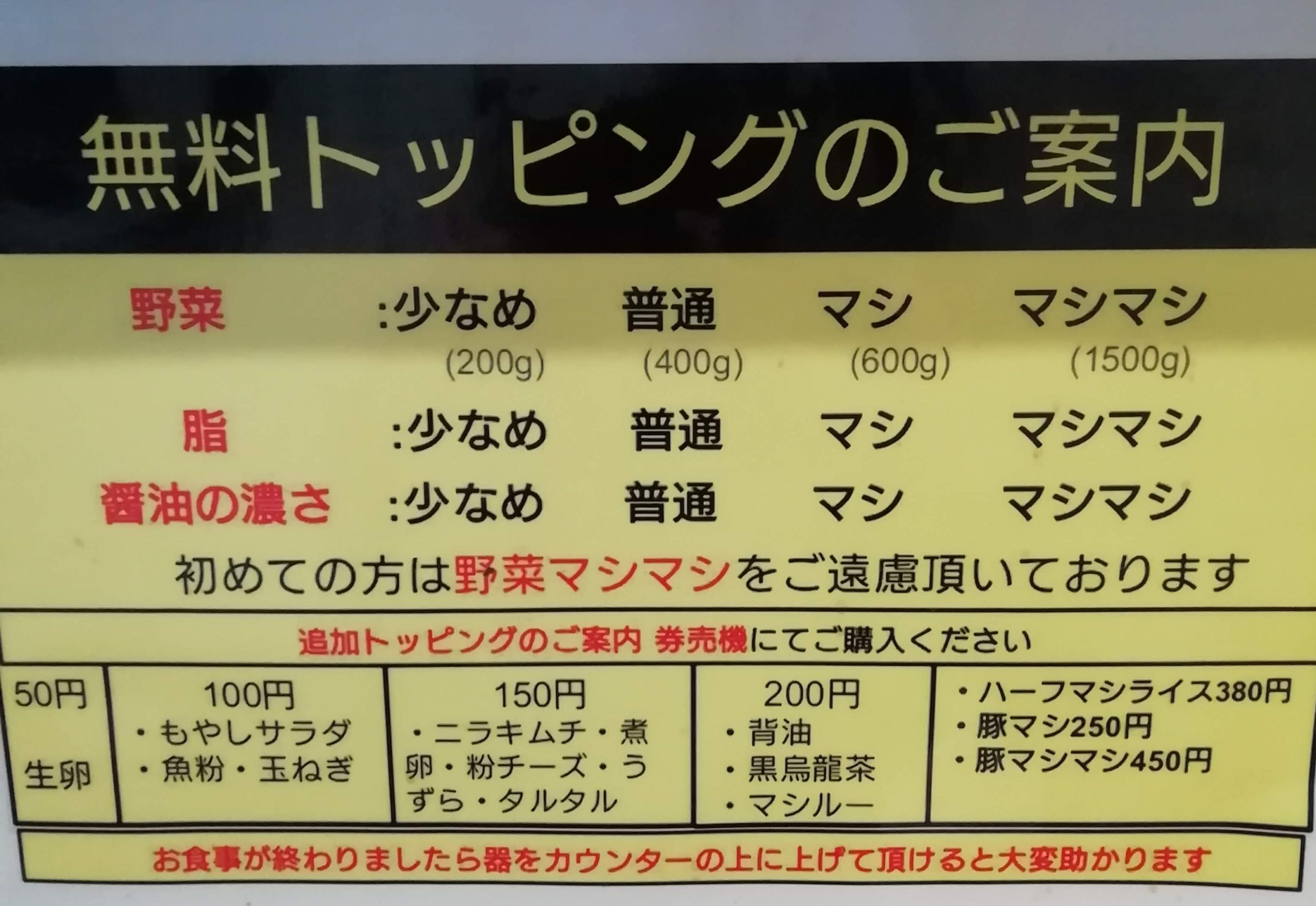 野菜      Yasai  = Vegetable(almost sprout)
脂       Abura = Fat
醤油の濃さ   Syouyu no kosa = Amount of Soy sauce
少なめ     Sukuname = small
普通      Futuu = Normal
マシ      Mashi = Large
マシマシ      Mashimashi = Mega
When you decided your topping customizing, Order a staff with ticket.
Example
For Men
---
Ramen"Chu" = Medium Ramen(300g)
Yasai  "Mashi"  = Large Vegetable(600g)
Abura "Mashimashi" = Mega Fat
Syouyu "Mashi"  = Large Soy sauce
Taste is a little strong..  Maybe Men like this combination.
Medium Ramen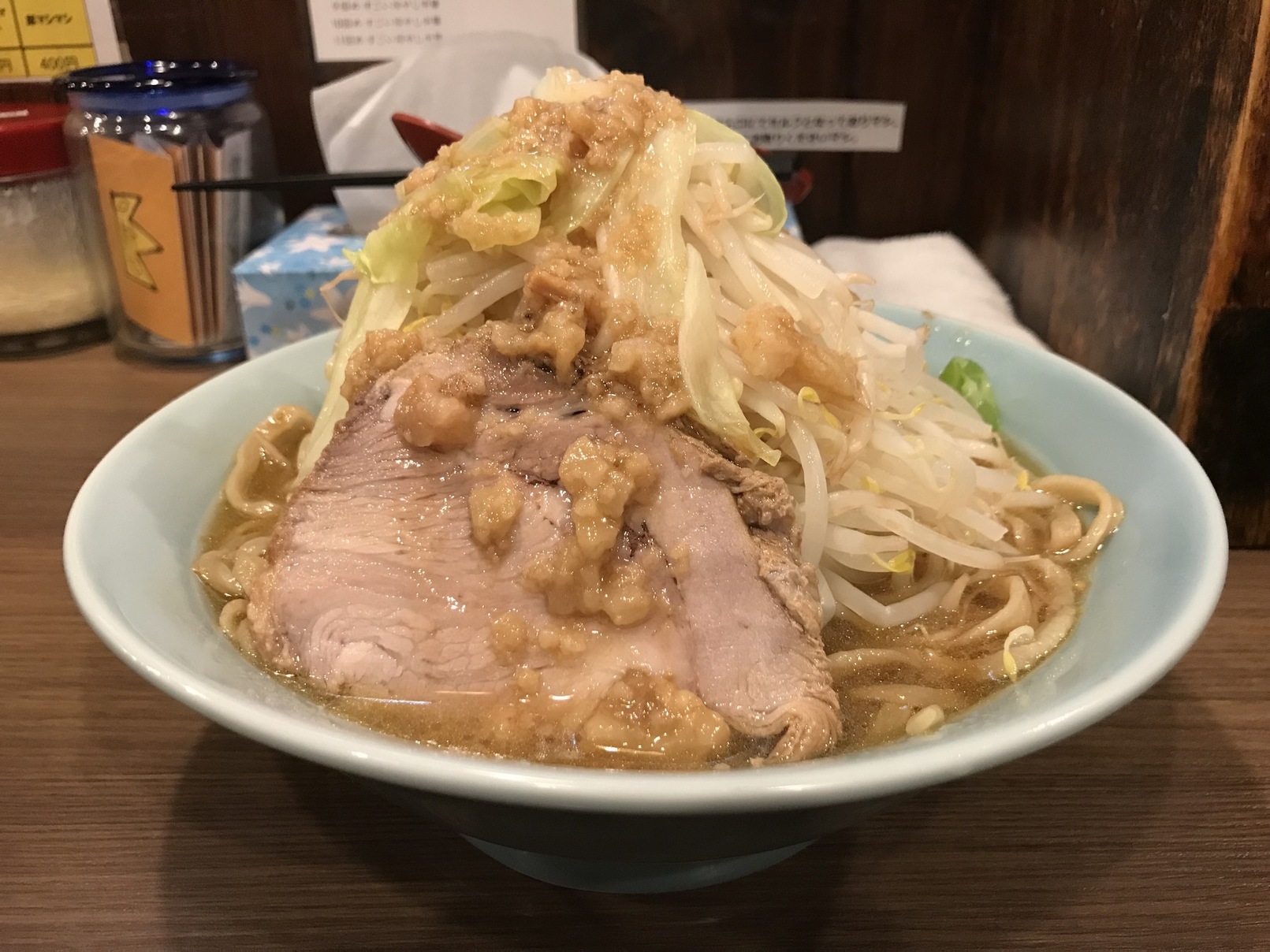 For Women
---
Ramen"Shou" = Small Ramen(200g)
Yasai"Sukuname" = Small Vegetable(200g)
Abura"Futuu" = Normal Fat
Syouyu"Futuu" = Normal Soy sauce
Taste is may fine for women, But if you feel easy, Order more free toppings with your respnsibility.
Small Ramen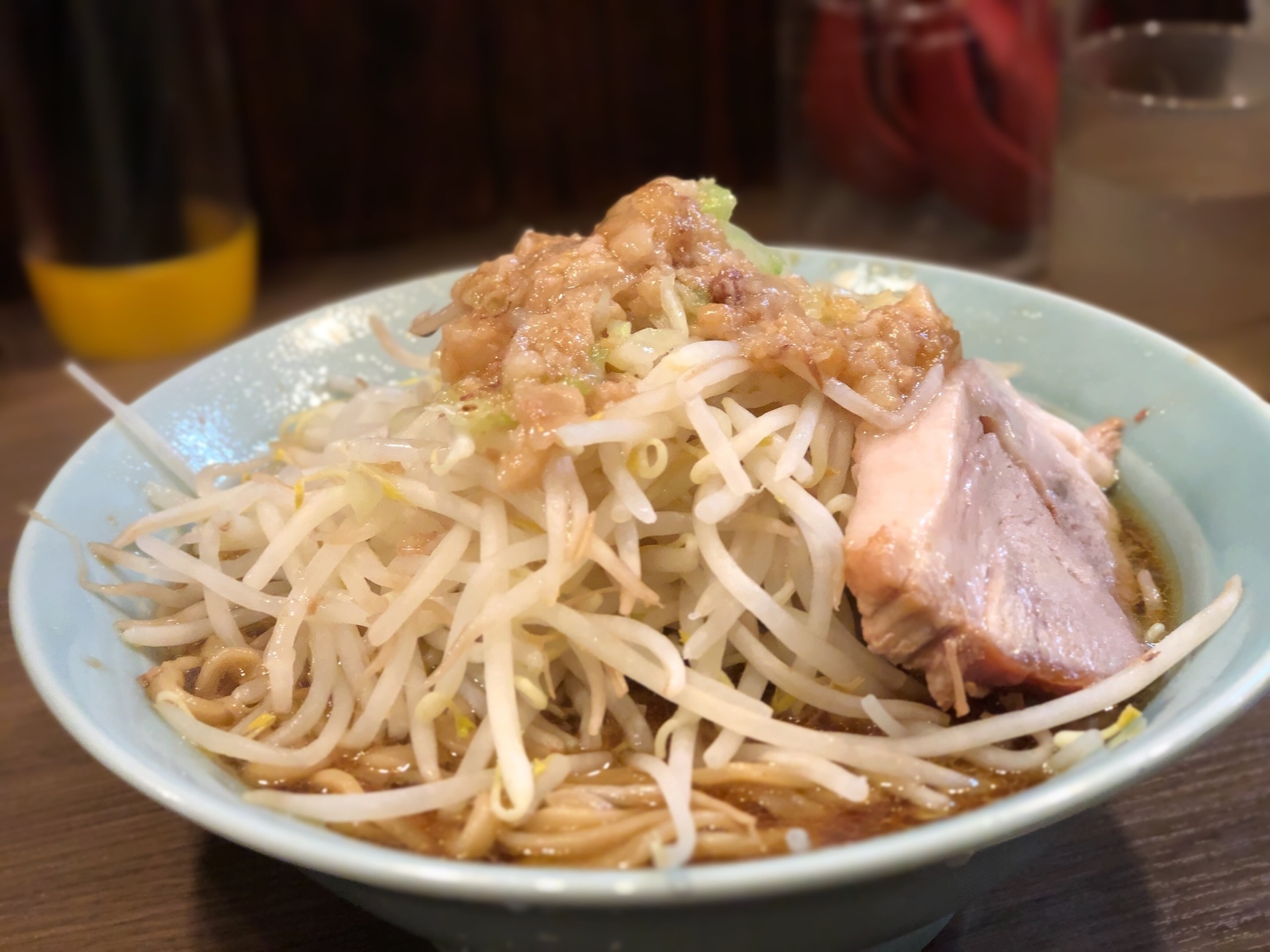 Step 3. Enjoy eating
When a Staff pass your Bowl over counter from kitchen,
You receive and enjoy eating your customized ramen!!!!
You can try free toppings, so Please don't leave food so much.

Unless you eat all, Greta get angry…. for Environment.
Step 4. After eating
Place the empty bowl on the countertop.
Say "Gochisousamadeshita" (ごちそうさまでした – Thank you for the meal)
It's more polite for a staff. if you don't mind, Please do that.
Shop Information
Shop Name
Tachikawa Mashi Mashi
立川マシマシ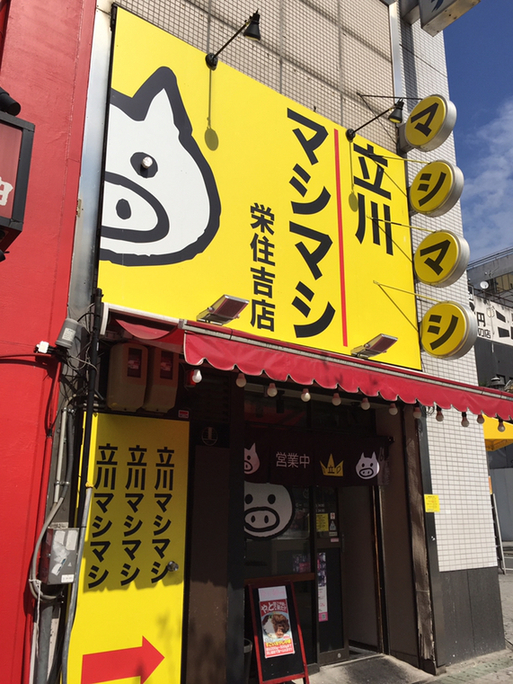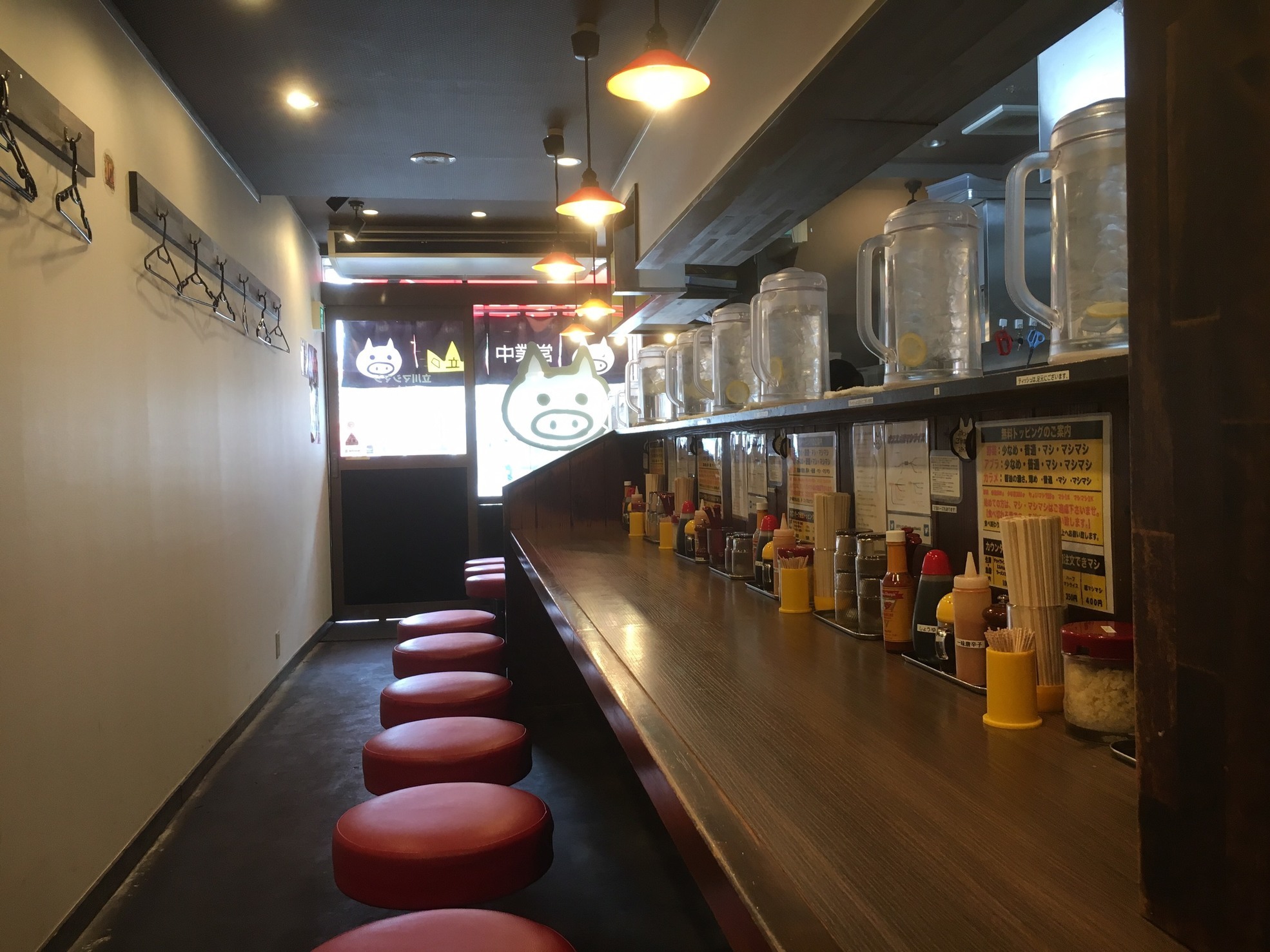 Location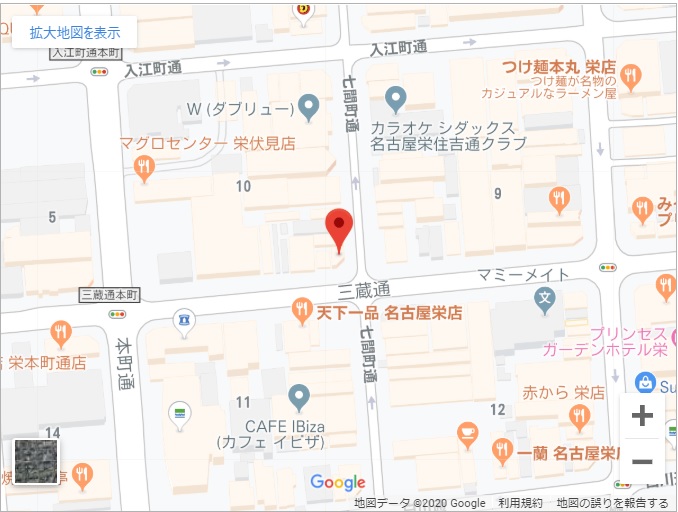 Address
---
3-10-19 Sakae Naka-ku Nagoya-shi Aichi
Zip 460-0008
Business Hour
---
11:00-15:00, 16:00-1:00
No Holiday
Cost
About 1,000Yen/Per Person (Depends on topping)
Others
Most of staff don't speak English
Water by yourself
Some seasening on the table (soy sauce, crashed garlic etc)
Tissue paper under the counter
Overall summary
How about trying Mega Ramen in Nagoya?
Did you get the urge to try Mega Ramen?
I introduced only my favorite shop, but there are some shop like Jiro Ramen.
If I have a chance or request from you, I may try other shop.
The way to order is same as above.
If you are interested in "How to order Jiro Ramen"  Check here How to order at Jiro Ramen
Enjoy your trip!!  Bye!!!